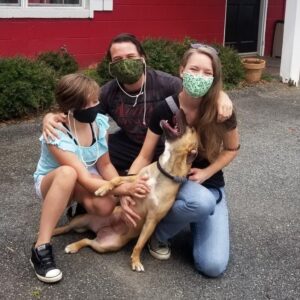 We find homes for healthy adult and juvenile dogs and cats over eight (8) weeks of age who have exhibited no dangerous or vicious tendencies. We place animals with adults of legal age (21 years of age) who are living permanently in the community.  All pets are spayed or neutered before adoption, or immediately upon adoption.
Dogs over six (6) months of age have been placed on heartworm preventative. Puppies and adult dogs have started their vaccinations and have been wormed. Kittens and cats have begun their vaccinations and have been wormed.
The adoption donation fee is $150 for a cat or kitten and $200 for a dog or puppy. An additional fee for special veterinary expenses, usually heartworm treatment, may apply. All pets are altered prior to or at the time of adoption. Adopters sign a legal contract agreeing to provide proper care of their new pet and to abide by animal control laws.
Our requirements:
All adopters will be asked to fill out the online adoption application found below. 

Adopters must be at least 21 years old.

Renters must show proof that pets are allowed, please bring a copy of your rental agreement. If there is a pet deposit, please show us your receipt that this has been paid.

Be prepared to take your pet home with you – bring a leash for all dogs, regardless of age or size (or a pet taxi for small puppies and dogs) and a pet taxi for all kittens and cats.
Please call us for additional information during our normal adoption hours at (478) 454-1273, or message us on Facebook. 
Online Adoption Application: http://animalrescuefoundation.org/adoptionapplication
*ARF is currently closed to the public. Adoptions and meet and greats are by appointment only. Please fill out the online adoption application in order to request an appointment. Appointments can only be made after your application is approved. For vet references, please provide the correct name that the account is under at the clinic(s) (if different from your own). This allows us to process applications quicker and easier.