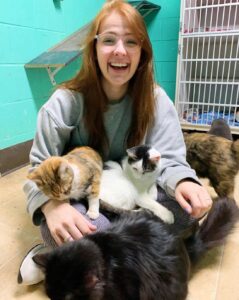 Monetary donations are always needed and appreciated. Many of the animals that we take into our care arrive dirty and malnourished. They are often suffering from fleas, ticks and internal parasites. They need to be tested for diseases that might spread and infect other animals at the shelter. They need to be vaccinated and spayed or neutered.
While all of our dogs and cats will make great companions, some of them will live at ARF for a long time before they are adopted. Adult cats and large dogs are not in as high demand as kittens and small dogs. It is sadly not remarkable for a cat to live at the shelter for a year or more. At the same time, we are picky about who can adopt our animals. For their safety, we want dogs to go to homes that have fenced yards and we want cats to be kept indoors.
Just like at your home, our gas, electric, and water bills have gone up due to rate increases. With the recent and much needed expansions, the space we need to heat, cool, and keep clean has also grown. ARF does not receive local, state or federal funding. We rely on the generous financial support of our community to help us help the animals.
So please donate today! Checks can be mailed to : Animal Rescue Foundation, P.O. Box 1032, Milledgeville, GA  31059-1032 or you can make a one time or recurring donation by clinking on the DONATE  button that appears at the bottom of each page. We also accept donations through Venmo. Our Venmo handle is milly_arf. 
The Animal Rescue Foundation is a non-profit, tax exempt humane society. Your donations are tax-deductible. If you need a receipt, please let us know.
Volunteer
Another great way to help ARF is to volunteer. Interested? Download and print the paperwork below!  ARF requires that all volunteers be at least 18 years old. 
ARF requires all volunteers to complete a brief training session with Georgia College ARF & Friends before coming in to volunteer. If you have not attended a training session, please email arff.gcsu@gmail.com to check on when they will be hosting sessions. You do NOT have to be a Georgia College student to volunteer with us! We only require that all volunteers be at least 18 years old. 
At this time, we will only be accepting volunteers on Saturdays and Sundays from 10am to 2pm. 
The dogs, cats, and humans of ARF thank you!
Things we always need
We are always in need of the following:
Unscented cat litter
Large garbage bags- 33 gallons or more.
Laundry detergent
Bleach
Dish detergent
Paper towels
Dry cat food
Dry dog food
Dry and canned kitten food
Dry and canned puppy food
Update: ARF is currently closed to the public. Donations may be dropped off in the bin outside of the rescue's front door. 
Amazon Wishlist
Items purchased from our Amazon Wishlist can be shipped directly to us by choosing to ship to Animal Rescue Foundation in the check out. ARF runs on donations, and greatly appreciates any and all donations.
Chewy Wishlist
We now have a Chewy wishlist! Items purchased from this list will be shipped directly to us. Check it out to see our most needed items.
---
Amazon Smile